Follow me around. I don't care. I'm serious. If anybody wants to put a tail on me, go ahead. They'll be very bored.
Happy 75th birthday to former United States Senator and presidential candidate Gary Hart (whose real name is Gary Hartpence, and who used to claim he was born in 1937, not 1936).
Hart was the front-runner for the 1988 Democratic presidential nomination when he spoke these words to a New York Times reporter in May 1987. Two reporters from the Miami Herald decided to stake out his Washington, DC townhouse, and observed a young woman (not his wife) leaving the residence. Hart claimed there had been no monkey business going on.
Coincidentally, Monkey Business was the name of a yacht where the picture below of Hart and the same young woman -- former beauty pageant winner Donna Rice -- had been taken when the yacht had been anchored in the Bahamas.
Hart dropped out of the race a week after the Herald story appeared. He re-entered the contest in December, apparently so he could collect federal matching funds to help pay off his campaign debt. The 1988 nomination eventually went to Michael Dukakis, who became the third straight Democratic nominee to go down in flames.
Donna Rice Hughes later married and is an author and speaker on Internet safety.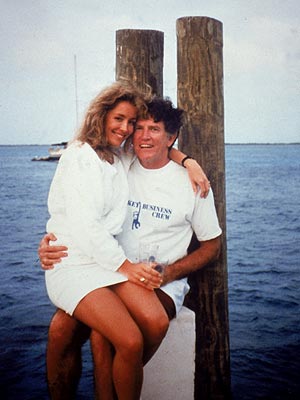 Donna Rice and Gary Hart